EveryDoctor is a doctor-led campaigning organisation fighting for a better NHS for every doctor and every patient. They are currently taking the government to court over the PPE procurement scandal which, quite apart from the issue of the money involved, had lethal consequences for healthcare employees forced to work without adequate protection.

Today they were in court alongside the Good Law Project for a hearing over Matt Hancock's refusal to provide what they believe is critical evidence on their PPE procurement challenges. They won. The Government must provide the requested information and pay their costs.
"We're getting closer and closer to the truth. Today in court @MattHancock was ordered to disclose texts and WhatsApp messages between senior officials and those seeking access to the PPE VIP lane. He has until 7th May to comply with the order.

A huge number of unusable FFP2 masks were purchased in vast quantities by the DoH last year. @MattHancock says he relied on advice from a senior @nhse official when buying but so far refused to provide us with copies of this advice. Today the judge ordered him to do so by 7th May

The judge agreed with us it's highly likely that there are communications between ministers relating to the establishment & operation of a PPE VIP lane that @MattHancock has not disclosed. She's given him until 7th May to provide us with them all.
Fab analysis from @megs1970!
Originally tweeted by EveryDoctor (@EveryDoctorUK) on 29/04/2021.
---
Also today, the campaign briefed a large gathering of MPs from all parties on the background to NHS privatisation. EveryDoctor have given their permission to share the Twitter thread which formed the substance of that presentation.
#NHS privatisation has been creeping into the NHS for 40 years. Understanding the past is vital to plan for the future. Here's a timeline of some of the key moments we're sharing with MPs today
1980s: The internal market. Meant to create competition & increase efficiency, instead it caused admin costs to soar. From 5% in the mid-70s to 14% by 2003, according to a study by York University.
1992: Private Finance Initiatives. Used to build new hospitals, PFIs plunged the NHS into a sea of debt & we're still paying them off. Buying out PFI contracts would cost £25-33bn but since repayments are set to reach £82bn – this would be a massive saving of public money…
[For more details, click here]

2000: Outsourcing to private providers damages the sustainability of the NHS & wastes money in the process. One provider Netcare didn't perform nearly 40% of work it was contracted to do & received £35mn for patients never treated. Thanks to @ElGingihy's book 👇 for these facts!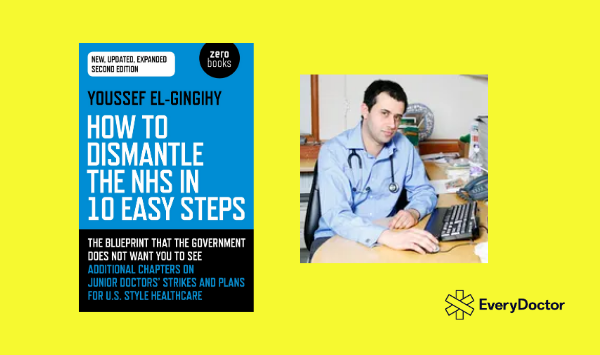 2004: Alternative Provider Medical Services allowed private companies to directly employ GPs. Leading companies like Serco, Harmoni and Take Care Now, to scoop up swaths of out-of-hours care.
2012: The Health and Social Care Act, a significant turning point. Created postcode lotteries for those suffering from rare diseases or unusual healthcare demands & NHS patients started getting bumped down waiting lists to accommodate private patients.

2013: Rise in private digital healthcare by companies like Babylon which Health Secretary Matt Hancock has publicly endorsed.
2018: Integrated Care Systems making it even easier for private healthcare companies to enter procurement contracts

2021: US healthcare firm Centene & its UK subsidiary Operose are now running 58 GP practices in the UK covering half a million patients, with the potential ability to restrict access and treatment to patients with little to no public oversight.
Originally tweeted by EveryDoctor (@EveryDoctorUK) on 29/04/2021.